All Saints' Day Concert:
REQUIEM · OFFICIUM DEFUNCTORUM
Tomás Louis Victoria (1548-1611)
And works by J. Rosenmüller, H. Schutz and Th. Tomkins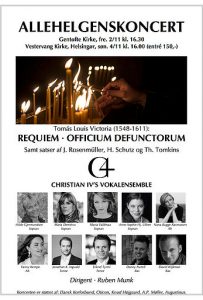 Concerts:
Gentofte Church, friday 2 november 16.30
Vestervang Church, Elsinore, sunday. 4 november 16.00 (tickets: 150,-)
Singers: Hilde Gjermundsen, Anne Sophie Hjort Ullner, Maria Demérus, Maria Valdmaa, Fanny Kompe, Nana Bugge Rasmussen, Erlend Tyrmi, Jonathan Kroner Ingvald, Danny Purtell, David Wijkman.
Conductort: Ruben Munk