DUFAY AND DANISH MODERNISM
New Danish music meets old french music.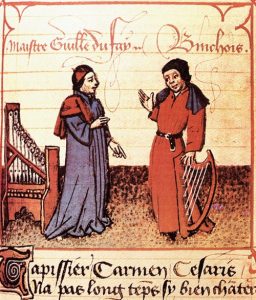 Wed 1. may 2019 19:30
Maribo Domkirke
Thursday 2. may 2019 19:30
Vejle, Mølholm Kirke
Friday 3. May 2019 16:30
Gentofte Kirke
Sunday 5. May 2019 17:00
Helsingborg/Sverige, S:a Maria Kyrkan
Christian IV Vocal Ensemble performs music by some of the greatest Danish composer of the 20th Century: Nørgård, Holmgreen, Nørholm and Ruders. They belong to a generation of composers who have already achieved acclaim, and all have their own place in music history.
These modern sounds are contrasted with music by the french composer Guillame Dufay (1397-1474). By musicologists he is regarded as the father of renaissance polyphonic music. It's a fascinating thought, that more than 500 years between these composers. Even though they are in opposite ends of music history, the musical expression is in some ways similar.
Program: Guillaume Du Fay (1397-1474)
Kyrie, fra Missa L'homme armé
Poul Ruders (1949-)
Preghiera Semplice (1981)
Guillaume Du Fay
Je me complains piteusement
Per Nørgård (1932-)
Morgenmyte (2000)
Guillaume Du Fay
Bon jour, bon mois
Pelle Gudmundsen Holmgren (1932-2016)
Konstateringer (1969)
Ib Nørholm (1931-)
3 Sange opus 3b
Guillaume Du Fay
Apostolo glorioso
Medvirkende
Christian IV Vocal Ensemble (8 singers)
Ruben Munk, conductor
All Saints' Day Concert:
REQUIEM · OFFICIUM DEFUNCTORUM
Tomás Louis Victoria (1548-1611)
And works by J. Rosenmüller, H. Schutz and Th. Tomkins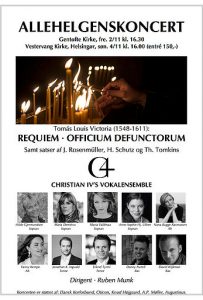 Concerts:
Gentofte Church, friday 2 november 16.30
Vestervang Church, Elsinore, sunday. 4 november 16.00 (tickets: 150,-)
Singers: Hilde Gjermundsen, Anne Sophie Hjort Ullner, Maria Demérus, Maria Valdmaa, Fanny Kompe, Nana Bugge Rasmussen, Erlend Tyrmi, Jonathan Kroner Ingvald, Danny Purtell, David Wijkman.
Conductort: Ruben Munk