Magnificent musical masterworks
Danish music across centuries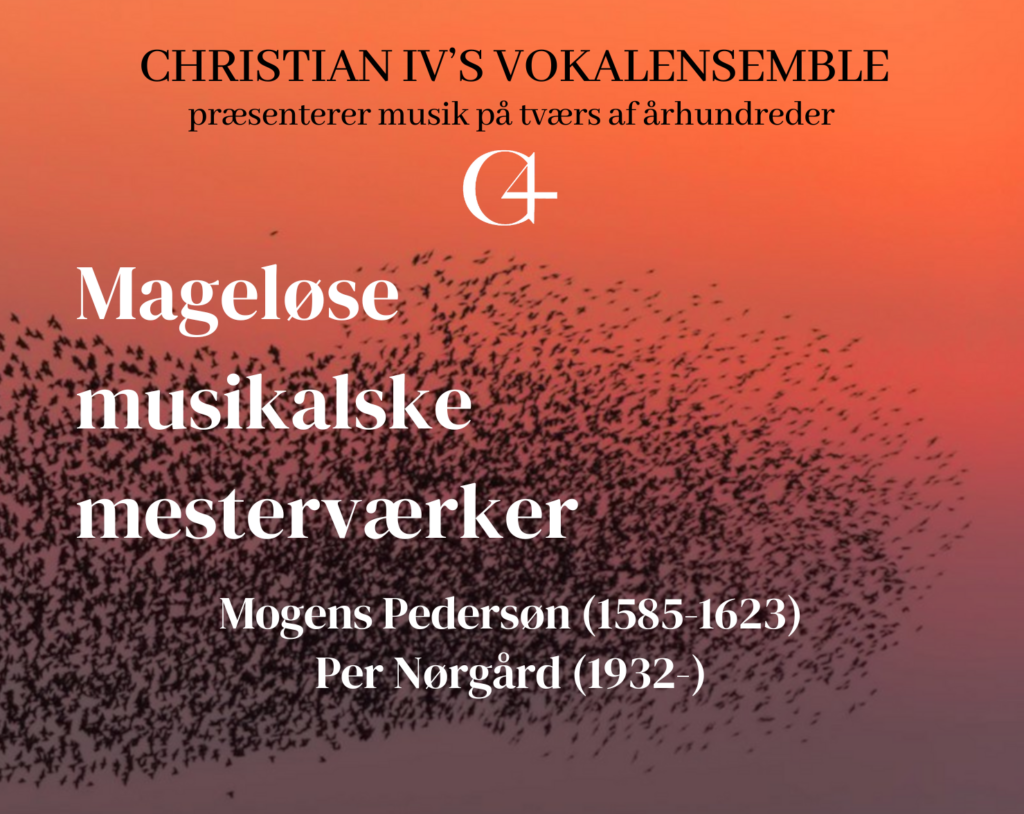 Mogens Pedersøn (1585-1623)
Per Nørgård (1932-)
HELLIGÅNDSHUSET, København
Friday 8 September 20.00
SANKT NICOLAJ CHURCH, Bornholm
Saturday 9 September 20.00
GARDERHØJFORTET, Gentofte
Wednesday 27 september 19.30
CHARLOTTENLUND CASTLE, Charlottenlund
Thursday 28 september 19.30
Tickets 250 DKK @ Billetto.dk
Christian IV's Vocal Ensemble
Conductor: Ruben Munk
VIVALDI MAGNIFICAT AND HANDEL DIXIT DOMINUS
22 March – 23 March 2023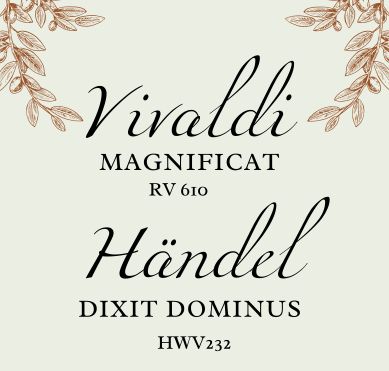 In March, Christian IV's Vocal Ensemble begins its 10-year anniversary season with a proper baroque fiest for extended choir and baroque orchestra. Get your tickets tickets at Billetto.dk for our concerts with Vivaldi's Magnificat and Handel's Dixit Domimus!
Ansgar Church, Odense 22/3 19:30 – Get your tickets at billetto.dk
Helligaandskirken, Copenhagen 23/3 19:30 – Get your tickets at billetto.dk
About the music
Vivaldi's Magnificat from 1719 for choir, soloists and strings is a magnificent musical depiction of Mary's Song of Praise that lifts the beautiful text to higher understanding through nine movements. Here we get Vivaldi at his best, with flattering melody delivery, effective Italian-tinged harmonies, and sequences that provide the music with wings and energy, typical of Vivaldi.
Handel's violent Dixit Dominus was written over the dramatic text from Psalm 109 in 1707 when he was just 22 years old. A sublime work that dresses this dramatic text on God's resolute revenge on his enemies in a series of contrasting movements. Skulls are "crushed against the stones" in a brutal staccato chorus, and divine peace is achieved in the soprano duet where delicate violins gently support the beautiful dissonance introductions.
Program
Antonio Vivaldi (12678-1741) Magnificat RV610
Georg Friedrich Händel (1685-1759) Concerto Grosso in A major Opus 6
Georg Friedrich Handel Dixit Dominus HWV 232
ENGLISH RENAISSANCE · SACRED MUSIC AND ART SONGS
8 OCTOBER – 10 OCTOBER 2022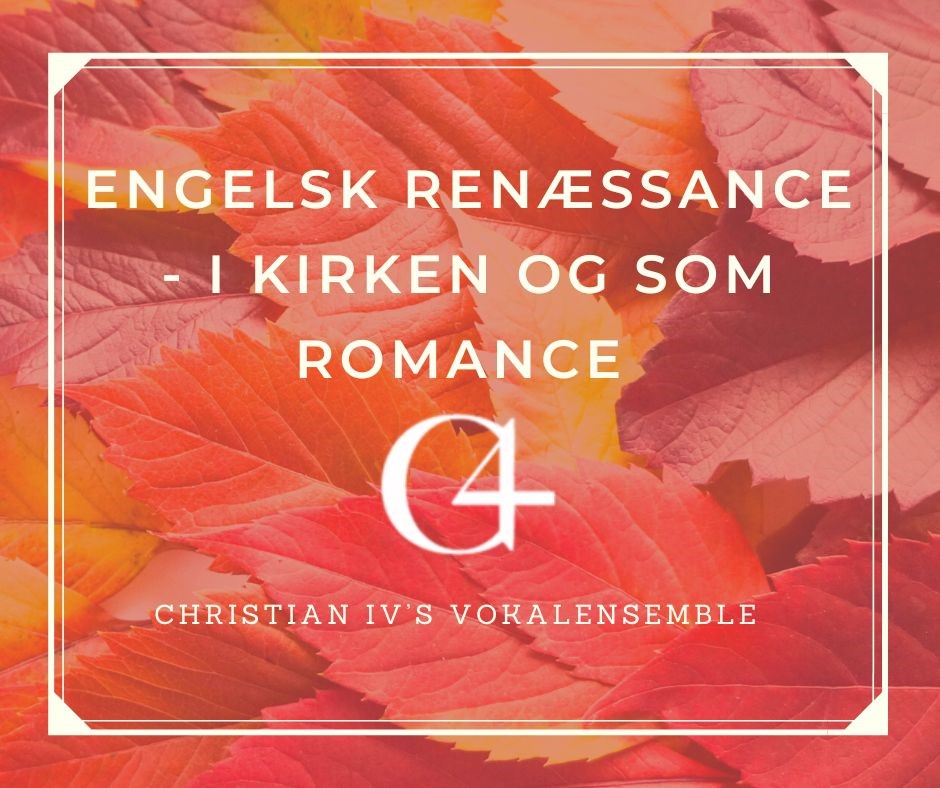 Christian IV's Vocal Ensemble offers a concert in two sections, where in the first half the focus is on church music by William Byrd (1588-1630), one of the most important composers of Renaissance England. In the second part, a beautiful bouquet of English madrigals is performed. The Renaissance was a time full of contrasts, with hideous epidemics, violent wars and erratic rulers, but also with fantastic advances in science, art and culture.
Life in the Renaissance was fleeting, unpredictable, perhaps relentless and fantastic. The madrigal is an emotional outlet for all this. Sorrow, joy and love and happiness, yes, all emotions are processed and expressed in the madrigal. In England we find a whole host of fantastic composers who created magnificent music.
Concerts
Saturday 8/10 at 16 Gråsten Castle Church
Sunday 9/10 at 16 Helligaandskirken, Copenhagen
Monday 10/10 at 19.30 Rønnevang Church. Organizer Taastrup Music Association
Bede, Synge, Sukke
10 – 14 April
Bede, Synge, Sukke (Pray, sing, sigh) – premiere by Mikkel Andreassen (1966) & The Passion Of Saint John by ​​Heinrich Schütz (1585-1672)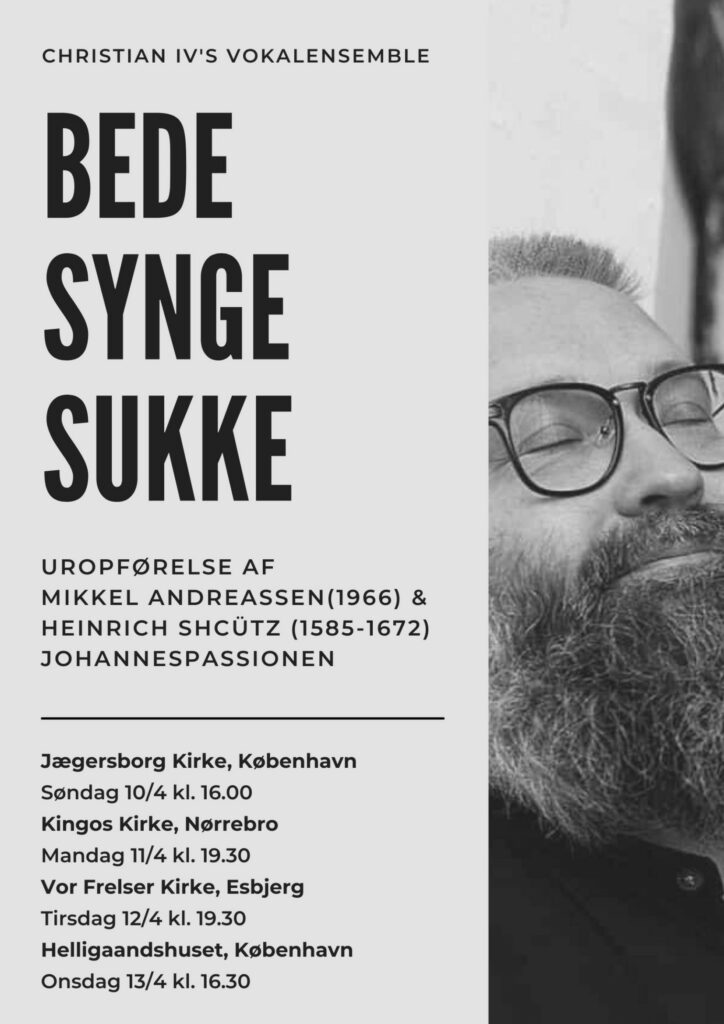 These three verbs will ring a bell for those who know the Christmas hymn "Forunderligt at sige" by the Danish poet Grundtvig. A fragment of Brorson's hymn "Mit hjerte altid vanker" gave the composer Mikkel Andreassen the inspiration for five new Latin passion motets.
Rather than the mystery of the child in the stable and in the manger, it's the harsh narrative of Jesus' sufferings that is the focus of the piece. After this premiere of Mikkel Andreassen's work, we will perform the concert's main work: "The Passion of John" by Heinrich Schütz.
Dates
Jægersborg Church, Copenhagen, Sunday 10/4 at 16.00
Kingos Church, Nørrebro, Monday 11/4 at 19.30
Our Savior's Church, Esbjerg, Tuesday 12/4 at 19.30
Helligaandshuset, Copenhagen, Wednesday 13/4 at 16.30
Catholic polyphony & Protestant Hymns
23 nov – 25 nov 2021
Josquin Desprez (1440-1521) & Michael Praetorius (1571-1621)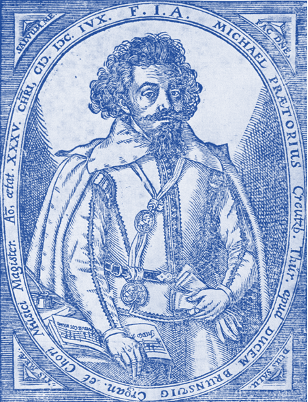 By 2021, it's a staggering 500 years since the death of French composer Josquin Desprez, and also exactly 400 years since German composer Michael Praetorius passed away.
Despres was a musical superstar within the Catholic Church, who has had a major impact on music history. He was praised by Martin Luther himself for his expressive music. Preatorius developed and created the new Protestant church music, where the simple coral or hymn was embellished, e.g. in Venetian double choir style.
The concert's main work is Desprez's Missa Pange Lingua from 1515. It's based on a beautiful and enigmatic melody attributed to the monk Thomas Aquinas, who lived in the 13th century. Through the concert, the Latin mass is intersected by various Advent- and Christmas hymns by Preatorius. Praetorius, at the time, used new hymns introduced by Martin Luther with the Reformation. Among the most famous is his beautiful melody to Es ist ein ros entsprungen.
3 concerts – all over Denmark
Mølholm Church, Vejle, 23/11 2021 19:30
St. Ansgar Church, Odense, 24/11 2021 17:00
Helligaandskirken, Copenhagen, 25/11 2021 19:30
Theile: St Matthew Passion
19 August – 28 AUGUST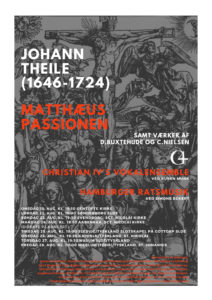 This projects celebrates the 100th anniversary of the reunification of South Jutland and Denmark. There will be eight concerts, in Sønderborg and Aabenraa, Gentofte, Svendborg and Kappeln, Gottorp castle and Husum Castle and Nieblum/Føhr.
Performers
Hamburger Ratsmusik:
Ulrich Wedemeier · theorbo
Anke Dennert · organ
Christoph Heidemann · baroque violin
Gabriele Steinfeld · baroque violin
Hermann Hickethier · gamba
Bastian Altvater · violone
Simone Eckert, · gambe and direction
Christian IV's Vocal Ensemble:
Hilde Gjermundsen · soprano
Maria Demérus · soprano
Klara Lucia Thordsen · alto
Erlend Tyrmi · tenor and evangelist
Jonathan Kroner Ingvald · tenor
Johan Bogren · bass
Staffan · Liljas bass
Program
Diderik Buxtehude (1637-1707)
Magnificat anima mea
Johann Schop (1590-1667)
Erster Theil newer Paduanen No. 1: Intrada à 5
Carl Nielsen (1865-1931) (Not performed in Gentofte Kirke)
Tre Motetter, opus 55 (1929)
Dominus regit me
Afflictus sum (instrumentalt)
Benedictus Dominus
Johann Theile (1646-1724)
Matthæus Passion, IJT 21 (1673)
Wed 19. august 2020 kl. 19:30
Gentofte Kirke (arr.: Gentofte Kirke)
Sat 22. august 2020 kl. 16:00
Sønderborg Slot (arr.: Sønderborg Musikforening)
Sun 23. august 2020 kl. 19:30
Svendborg, Sct. Nicolai Kirke
Mon 24. august 2020 kl. 19:30
Aabenraa, Sct. Nicolai Kirke
Tue 25. august 2020 19:00
Slesvig, Germany, Slosskapell Gottorp
Wed 26. august 2020 19:30
Kappeln, Germany, St. Nikolai
Thu 27. august 2020 19:30
Schloss Husum, Germany (in collaboration with Stiftung Nordfriesland)
Fri 28. august 2020 19:00
Nieblum (Føhr), Germany, St. Johannis (Friesendom)
Georg Friedrich Händel (1685-1759): Messiah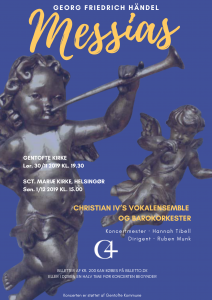 Sat 30. Nov. 2019 kl. 19:30
Gentofte Kirke
Sun 1. Dec. 2019 kl. 15:00
Helsingør, Sct. Mariæ Kirke
Ticket price: 200 DKK, available at billetto.dk
Tickets will be sold at the door if not sold out.
Light and darkness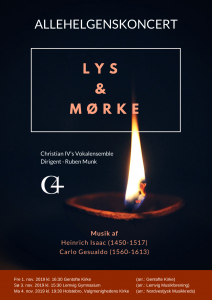 All saint's eve concert with music by Heinrich Isaac (1450-1517) and Carlo Gesualdo (1560-1613)
Fri Nov 1. 2019 kl. 16:30
Gentofte Kirke (arr.: Gentofte Kirke)
Sun Nov 3. 2019 kl. 15:30
Lemvig Gymnasium (arr.: Lemvig Musikforening)
Mon Nov 4. 2019 kl. 19:30
Holstebro, Valgmenighedens Kirke (arr.: Nordvestjysk Musikkreds)
A Gateway of music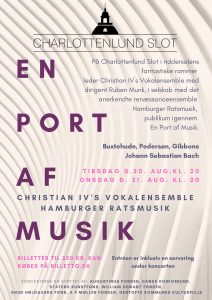 Renaissance and baroque music at Charlottenlund Castle with Christian IV Vocal ensemble and the esteemed orchestra Hamburger Ratsmusik.
The idea of music as a gateway to a higher consciousness is not new; Ever since ancient times music has been viewed as something that transcends this world and lets the listener become part of something divine.
In the gospel of st Matthew 7:14, it's written 'Because strait is the gate, and narrow is the way, which. leadeth unto life, and few there be that find it.' Nothing that's good comes easy, but through music we can leave our troubles behind, and enter through that gate, and maybe even catch a glimpse of Paradise.
The program contains magnificent music by Buxtehude, Pedersøn, Hammerschmidt and Gibbons, but the main pillars of this 'musical gate' consists of three motets by Johann Sebastian Bach.
Tuesday August 20th 20:00 ( billetto.dk or politiken.dk/plus)
Wednesday August 21st 20:00 (billetto.dk or politiken.dk/plus)
Charlottenlund Castle,
Jægersborg Alle 1, Charlottenlund
Tickets: 250,- Billetto.dk, or via Politiken-Plus.
Ticket includes a snack during the break.
DUFAY AND DANISH MODERNISM
New Danish music meets old french music.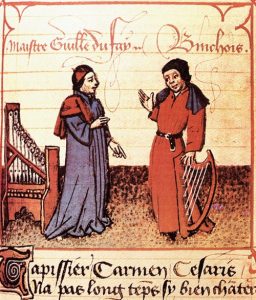 Wed 1. may 2019 19:30
Maribo Domkirke
Thursday 2. may 2019 19:30
Vejle, Mølholm Kirke
Friday 3. May 2019 16:30
Gentofte Kirke
Sunday 5. May 2019 17:00
Helsingborg/Sverige, S:a Maria Kyrkan
Christian IV Vocal Ensemble performs music by some of the greatest Danish composer of the 20th Century: Nørgård, Holmgreen, Nørholm and Ruders. They belong to a generation of composers who have already achieved acclaim, and all have their own place in music history.
These modern sounds are contrasted with music by the french composer Guillame Dufay (1397-1474). By musicologists he is regarded as the father of renaissance polyphonic music. It's a fascinating thought, that more than 500 years between these composers. Even though they are in opposite ends of music history, the musical expression is in some ways similar.
Program: Guillaume Du Fay (1397-1474)
Kyrie, fra Missa L'homme armé
Poul Ruders (1949-)
Preghiera Semplice (1981)
Guillaume Du Fay
Je me complains piteusement
Per Nørgård (1932-)
Morgenmyte (2000)
Guillaume Du Fay
Bon jour, bon mois
Pelle Gudmundsen Holmgren (1932-2016)
Konstateringer (1969)
Ib Nørholm (1931-)
3 Sange opus 3b
Guillaume Du Fay
Apostolo glorioso
Medvirkende
Christian IV Vocal Ensemble (8 singers)
Ruben Munk, conductor
All Saints' Day Concert:
REQUIEM · OFFICIUM DEFUNCTORUM
Tomás Louis Victoria (1548-1611)
And works by J. Rosenmüller, H. Schutz and Th. Tomkins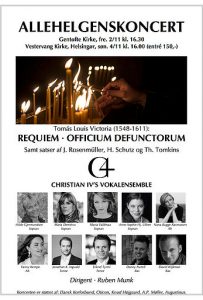 Concerts:
Gentofte Church, friday 2 november 16.30
Vestervang Church, Elsinore, sunday. 4 november 16.00 (tickets: 150,-)
Singers: Hilde Gjermundsen, Anne Sophie Hjort Ullner, Maria Demérus, Maria Valdmaa, Fanny Kompe, Nana Bugge Rasmussen, Erlend Tyrmi, Jonathan Kroner Ingvald, Danny Purtell, David Wijkman.
Conductort: Ruben Munk